Welcome to the Hopkins County, Texas Genealogical Society's Website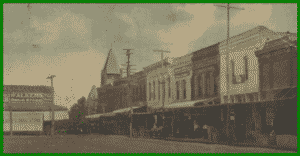 HCGS welcomes you to explore our new website and consider becoming a member of our society. There are several newly added databases consisting of thousands of entries that sometimes take time loading including many NEW databases in our MEMBERS ONLY CONTENT. 
SULPHUR SPRINGS, TEXAS – A PICTORIAL HISTORY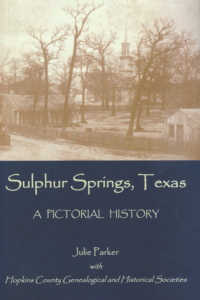 The book that HCGS member Julie Parker has been working on is finished. Titled Sulphur Springs, Texas – A Pictorial History, it consists of 142 pages of mostly vintage photos with historically informative captions. These books would make great Christmas gifts for anyone.  They are available for purchase at the HCGS library located at 611 N. Davis Street in Sulphur Springs for $15.00. We will be open Monday, Tuesday, and Thursday from 9:30 am to 5:00 pm this coming week.
If you do not live close enough to purchase a book in person, they are also available for $15.00 plus $4.00 for shipping one book or $5.00 for shipping two books by emailing hcgstx@suddenlinkmail.com and then requesting a PayPal Invoice, or directly by mailing a check to HCGS, PO Box 624, Sulphur Spring, Texas 75483 and stating your request.
Exciting News!!!!
Texas A&M – Commerce Digital Commons (formerly Texas  A&M – Northeast Texas Digital Collections) is back online! HCGS partnered with the university years ago so that our archived photos could be enjoyed anywhere. They have been temporarily offline but are again available. Click here to view.  
NEW BOOK FOR SALE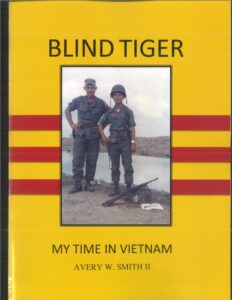 Blind Tiger – My Time in Vietnam by Avery W. Smith. Avery is a First Family of Hopkins County Genealogical Society. Avery served in Vietnam as a Special Forces Advisor to the South Vietnamese Army, and finally at the U. S. Army Surveillance School at Ft. Huachuca, Arizona before leaving the service in July 1970. A Son of the Republic of Texas, Avery is a sixth-generation Texan from the Northeast Texas community of Sulphur Springs, Texas.
All proceeds from this book are being donated by Avery Smith to the Hopkins County Genealogical Library. The book can be purchased by contacting  Hopkins County Genealogical Society library located at 611 N. Davis Street, Sulphur Springs, Texas 75482 or by calling 903-885-8523. The cost is $25.00 plus $3.00 for shipping.
NEW BOOK FOR SALE
HCGS is thrilled to announce that the much anticipated The Progressive City – History of Downtown Sulphur Springs 1914 has now been published. It is the culmination of five years of research and was compiled by Shirley Lunceford Patchen. The book contains incredible history about the town and the people that lived in Sulphur Springs during the early part of the twentieth century. The cost is $50 and can be purchased by contacting the HCGS library at 611 N. Davis Street in Sulphur Springs or calling 903-885-8523. The book has a Unibind steel  bound spine with 459 pages, 234 photos of early businesses and business leaders, a full name index, and a removable map  depicting business locations. It is a must have for your home library!
New HCGS Brochure containing lots of information about our research library. To view click here.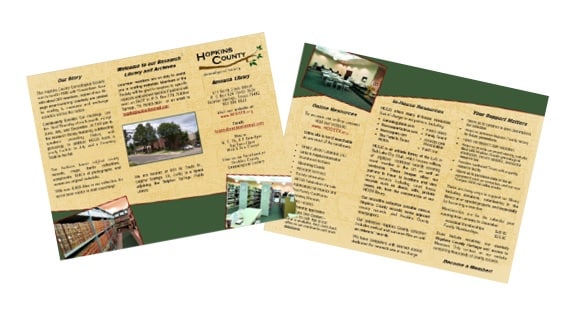 New Books for Sale
HCGS is pleased to announce the following two new books for sale.
 Known Only to God by Rhonda Bechhold is the story of the mystery man who died in a horrific accident on Hwy 19 North on the night of August 10, 1954. His identity and many facts about his life remained hidden. Two years ago author Rhonda Bechhold made it her mission to discover who he was and to tell his family. Her journey includes many days of genealogical perseverance and frustration as well as triumph and joy! For additional information click here.
Wandering & Wondering by Larry Harmon is the collected research of this amazing Hopkins County historian. It contains in-depth research on many Hopkins County locations along with  the history and men of the CSA Ninth Texas Cavalry Cavalry. Larry loved history and especially Hopkins County history. To order click here.
New for Sale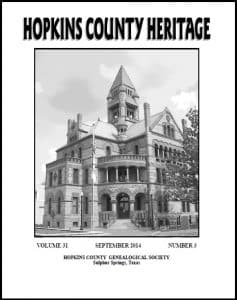 We are now offering for sale  ALL of the Hopkins County Heritage back issues on a single flash drive!! (Includes every issue from the beginning in 1984 to June 2017). Each flash drive contains two folders – one folder contains individual issue PDFs and one folder contains a single PDF of the complete set. It is word searchable so that you can easily locate surnames or search terms in any single issue or in the complete set! And travels with you easily to libraries or on research trips!
The cost is $50 (plus $4 for shipping and handling) and can be purchased by contacting  the HCGS library.
Sulphur Springs Montage
The Society was one of four Sulphur Springs locations chosen to sell the amazing new Sulphur Springs montage. It is approximately 17 1/2 inches x 22 1/2 inches.  The montage depicts businesses, events, and many historic buildings along with several early civic leaders. The artist  created it in two versions. The prints sell for $10 and the signed  & numbered Collector's Edition sells for $100.  Please come by the HCGS library to see this beautiful work of art!
On September 7, 2017 Familysearch.org permanently suspended their microfilm circulation program. Their reason for this is that they began a digitization program and hope to have all their microfilm completely digitized by 2020. They have already digitized 1.5 million rolls of film and currently digitize 1000 rolls per day.
LDS is now allowing these restricted images to be view-able at affiliate libraries. And we are thrilled to announce that HCGS now has these images available on our computers. These images will allow researchers to travel to locations and view many records including court house records such as deeds, land, probate, etc. from the convenience of our HCGS library. The records for the most part cover every county in the United States as well as worldwide.  Use their catalog to discover what records might be of interest. (FamilySearch Help Center topic 55954 helps to explain how to use their catalog)
And if your county/country of interest has not yet been digitized you can contact FamilySearch to request that they digitize specific films. You may request up to 5 rolls of films in one interaction. For specific details on how to do this by phone, chat, or email go to FamilySearch's Help Center and view help topic 469883.
Hopkins County Texas Research Guide
Professional genealogist and former Hopkins County resident Cyndi Harlin has graciously shared her Hopkins County Texas Research Guide. This expertly created guide gives numerous tips  and areas to explore to help aid your  research in Hopkins County. Check out this useful and  beautiful booklet by clicking here.